I believe I may have mentioned a time or two here how much I LOVE AND TREASURE AND ADORE my neighborhood. And by
neighborhood
I mean the dear people who inhabit it. Check this out.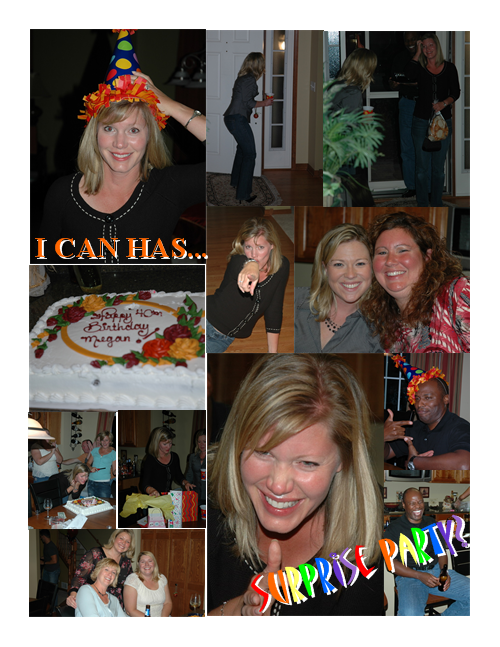 Oh yes they did!
And clever little boogers that they are, they have me pegged already! After only about 18 months of knowing me. The party had been in the works for several weeks before my actual birthday. I saw a few not-terribly-subtle-to-me (the I-must-know-everything-about-everything sleuth that I am!) signs that Something Was Up here and there. I observed whispered conversations and noted rapid and bizarre subject changes when I appeared on the scene. Alas, I am The Queen of Surprise-Spoilery. The Dutchess of Dumping the Cat Out of the Bag. And even I get annoyed by myself at times, but usually I just can't help it. Do something right under my nose, I may never notice. Try to hide it, and I will never quit until I know every sordid detail. I snooped and I spied. Oh, these people were so easy. So transparent.
Yet.
My birthday came.
And went.
And nothing happened.
The weekend after my birthday came.
And went.
Still nada.
Well,
I thought,
I guess I was imagining all that. Or mebbe they WANTED to do something but it just never came together.
It was all good though, I'd had a perfectly lovely time turning 40, with flowers and cards and a birthday cake made by
Nicki
and flowers and cards from neighbors and friends PLUS pampering and
JEWELRY
from Al and Bean. I was completely and fully satisfied with the festivities and had turned the page on my birthday with a happy smile and a contented sigh. Next stop, 41.
I got an emailed invitation to the regularly-scheduled Neighborhood Game Night a few days after the Birthday Dust had settled, and responded with alacrity (that's my new favorite word,
alacrity
... feel free to adopt) that we'd be in attendance. Organized the babysitter. Put it on the calendar. Planned what appetizer I'd take. Moved on.
Game night rolled around. I prepared my appetizer, got myself all purtied up, greeted the babysitter, and scurried off to Neighbor Christy's house, carrying my little bag of baguette rounds and my duo of dips for munching. We walked to the front door and it was closed. I rang the doorbell. A chorus of voices shouted, COME IN!!!
I opened the door. Nicki was standing right inside the door, staring at me, smiling.
Everyone else was standing in the entry hall and halfway up the stairs in a big bunch. They all shouted
SURPRIIIIISE!
Blink.
Blink blink.
Huh?
Honestly, my first reaction (which thankfully I was able to keep completely inside my own head, which is not common for me) was pretty much
WHA? SO CONFUSED! MUST THINK.
What's the surprise? It's game night. Why's everyone standing in a clump like that? So far away from the all the food?
I know. Just call me Zippy. Like a finely-tuned, high-speed computer, this brain of mine.
I finally caught on when Neighbor Katie stuck a birthday hat on my head.
It was a hoot of a party. The food, the laughter, the presents, the cake... all of it 100% picture perfect. And we did get down to the games, eventually.
But the best part of it all? My sweet "new" friends (whom I honestly feel I've known for half my life already). That Neighbor Nicki and Neighbor Katie planned this whole thing with Neighbor Christy (the hostess)and Al via whispers and emails, just for little ol' me. And that the rest of the gang (including most of the Bunco gals) were there to celebrate and enjoy and laugh and smile and be happy.
That, ya'll, is the about the best gift a girl could ever get.