Well?
Any guesses?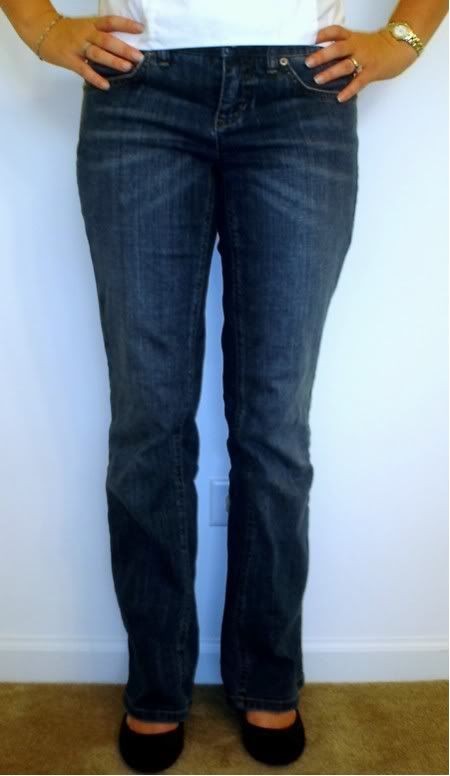 Contrary to what this picture illustrates, THESE are THE JEANS.
They are Tommy Hilfiger Modern Rise Bootcut jeans, which I located (finally) RIGHT NEXT TO the DKNY jeans at Carson's when I made a second trip through one afternoon when Bean and I were desperate! to! get! outta! the house!
These jeans are a nice soft true blue cotton denim blended with a hint of Spandex®. They're cut low but not too low, and they feature a simple embellishment (featuring a subtle 'H') on each of the back pockets. You know what else I love about these jeans? The zipper and inner seam stitching? Is RED. But only on the inside of the jean, where it can't be seen by anybody but me. And red makes me happy. So each and every time I pull on my new Jeans, I get a shot of
happy
. And it feels like
Secret Happy
, too. Who doesn't lurv them some Secret Happy?
But I still say
contrary to the above
because there are some THINGS reflected in this picture that make these babies seem much less THE JEAN-Y than they were two weeks ago.
Such as the 5 extra pounds I've loaded on scarfing down pizza and birthday cake for a week. (Heaven help me when I'm the mother of the BRIDE, if I can load on this much weight from one measly lil toddler birthday week!)
And. The
dirigible
-ic bloating I've got goin' on right now. My dear sister sent me some
probiotics
for my birthday, for me to start taking on accounta she has noted that I GET SICK ALLATIME! So she hooked me up with the good stuff and also recommended that I take FOUR TO SIX GRAMS of Vitamin C a day. Yes. GRAMS. Not milligrams. That, my friends, is equivalent to eating nearly 60 oranges in ONE DAY. See? Gas. (In my somewhat hasty research, I also discovered that an ORGAN has zero mg of Vitamin C per serving. But I bet you'd have bigger problems than gas if you were to eat an organ.) (I'm just sayin'!)
But looky! I'm not sick!
Instead, I am a blowfish. A kindof
musical
blowfish. And I'm not talking
Tra-lala I'm a musical blowfish
, either.
(But I'm not giving up on the probiotics or the Vitamin C.)
Anyway, thanks to all the methane, and the birthday shenanigans, and a poorly-timed trip (for the jeans, not me) through the washer and dryer, THE JEANS are not looking their very best. On me. But I still love them very dearly. I have them on right now, in fact.
I don't believe I received a single recommendation for Tommy Hilfiger jeans!
So I'm going to combine the two awards I promised in my original
September is New Jeans Month
post and divide the total pot in half so I can award (with nothing less than full-gale
ALACRITY
) each of TWO random commenters on that original post a
$20 gift card
to the retailer of her choice, provided the purchase and shipment of said gift cards may be perpetrated wholly on-line. Because Mama ain't goin' to the mall again for a very long time. So saith Daddy, anyway. And I am sure Bean will gladly echo-ith the same.
And the two lucky random commenters on September is New Jeans Month are:
(Musical noises resembling drumroll.) (Ahem.) (Or maybe a trumpet fanfare, you be the judge.) (Or not.)
Mari of
My Little Corner of the World
.
and
Jenn at
Full of Boys
.
Congratulations winners and thank you EVERYONE for nearly 60 great suggestions. I have new jeans! And it's still October!
See, Mamabloggin' is so powerful. Together, we can move mountains, y'all.
Or something like that.
Methane fumes, you know.