Originally posted October 17, 2005.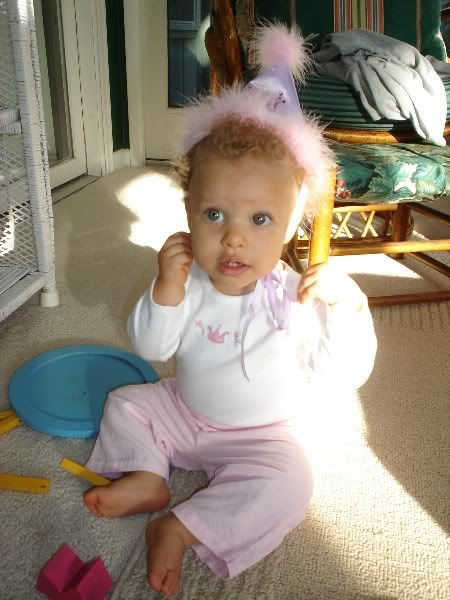 Hi Beanie!
My hope is to write you a letter for each of your birthdays, to chronicle your year for you - your growth and development, your accomplishments and firsts, special events and holidays, and to tell you about your family and paint a picture of the love and the joy surrounding you as your life unfolds.
Oh, my sweet lovey! My heart just swells with pride and amazement and happiness when I think of your miraculous and beautiful first year with Daddy and me. Actually the amazing part started the day we found out you were on your way to us! Your presence in my body so quickly filled me with such a sense of peace and well-being. As you grew inside of me, I adored our connectedness and felt (and still feel) I knew you very well before you were even born. To me, your rumbly little rollings in my belly bespoke your funny little adventurous spirit. The fact that you were very calm, though, and gentle, told me you would be easy-going and happy. And Mama's instincts were right! You are such a delight to be with...funny, happy, spirited little you. You're just the way I knew you would be.
Your birth on October 17, 2005 at 3:06 p.m. really surprised me. I expected your arrival to be beautiful, but also imagined I'd be frightened and hurting and exhausted by the time I held you in my arms. Yet you arrived so easily and were so beautiful and perfect to me that instead I felt completely invigorated and light as air! I remember that the first time I locked eyes on you, you weren't even all of the way out, and I just saw your little tiny ear - the left one - and it was the most precious and perfect thing I'd ever seen in my life. After your birth, when I held you in my arms that first time, I noticed your pretty little curls and your sweet mouth and nose, both of which I was immediately compelled to kiss with relish. You were like an irresistible delicacy to me then, and you still are! Nana and Daddy and the hospital staff all thought you were very beautiful, as well.
Your first weeks at home we spent nursing and learning how to keep you cozy and happy. You loved snuggling into me so much that it was hard for us to keep you awake long enough to eat! You slept a lot, my Beanie! We took turns holding you as you slept, and you also slept in the cradle that Nana and Poppa made for Aunt Jackie - the same one that all of your cousins on Mama's side slept in after they were born. At night, you slept in your crib in your own little room, with a nightlight casting a safe, soft glow over your sweetly sleeping little self. You were so little! You barely made a little lump in that crib, and you rarely changed positions as you slept, so we'd find you all neatly covered up and peaceful the many times we checked on you each night. Daddy and I loved to just go in and watch you sleep. We would look at you and sigh and hug one another and then leave and say to one another how blessed we were that God gave YOU to us. I confess there are times I still wonder why I got such a beautiful, sweet, perfect child.
By November, we felt you were ready for a little journey, so we took you to visit Nana and Poppa at the Isle of Palms (your first trip to the beach!) in South Carolina. You were still so tiny and needed plenty of sleep, but we still managed to get you out for some walks around the island and on the beach. This was the first time Poppa had seen you. You managed the 5 hour drive down very well, although we drove at night and in a major rainstorm and the going was pretty treacherous. We bundled you up for the island's Thanksgiving parade and put you in your stroller to go see all of the decorated golf carts and Santa in the big white Adirondak chair, but you seemed overwhelmed by the noise and crowd, so I brought you back to the beach house and you went to sleep! We had Thanksgiving dinner at home and I think you were asleep for that, too.
For Christmas, Charlee and AJ came to stay and met you for the first time. You and I waited for them to arrive at our house with Daddy that first night. We lay next to one another on the living room floor and watched cooking shows. When your big sister and brother arrived, they got down on their hands and knees beside you and looked you over carefully. They pronounced you
cute
! and were very quiet and studious toward you at first. But over the next days, they learned how to hold and cuddle you, and your big sister even changed your diaper and your clothes a few times during that visit! You watched your siblings with wide eyes and loved to be near them in your bouncy chair while they played and sang. Nana and Poppa and Gee Gee and Granddaddy came to visit us all on Christmas Eve. We had a little sandwich lunch and your sister and brother put on a little show for everyone dressed as Santa and an elf. You had your first cold that week and didn't feel well, so you and I spent most of that visit upstairs tucked into our pink rocking chair, just being together.
Months passed and you grew and changed so much! I loved to lay you on your pink Boppy pillow on your tummy, propped up on your elbows. You learned to support your little head and begin exploring toys with your eyes and hands. You also had a little floor gym that your Aunt Jackie gave us, which had Cookie Monster and Big Bird toys that dangled in front of you. You loved to watch them swing and sway and you'd lie in the sunshine on the floor of the living room cooing and smiling as I got a few things done here and there. We took walks around the neighborhood with you in your stroller, all bundled up in sweaters and blankets. And we'd go shopping at the mall or the grocery store, too. You always got loads of attention and compliments when we went out. You were so pretty, even when you were just tiny!
You loved to play with Daddy early on too! Daddy would stack up your cups for you in a big tall tower and you would watch enraptured. When he'd finish the tower, you would kick at it with your tiny little feet and knock Daddy's tower over and he'd pretend to be soooo upset about it! You got very good at that game and you still do it now, although Daddy's towers are much more elaborate and sometimes are guarded on all sides by stuffed animal sentries, and but you knock them all over with your hands with a gleeful shout of attack! You are so silly, Bean! Our little
Madame Destructo.
I sang to you a lot this year! My favorite thing to sing to you has always been
our song
. You will know it yourself before long, I bet. It is
Rockabye Sweet Baby James
by James Taylor, but I like to sing it to you saying Rockabye Sweet Baby Bean. Our song has a nice soothing effect on both of us when I sing it to you. You also love to hear The Alphabet Song and Twinkle Twinkle Little Star. I recently started singing you a song by Kermit the Frog called
The Rainbow Connection
which is soft and dreamy, and your new favorite right around birthday time is the song by Alvin and the Chipmunks that goes Ooooh Eeeeh Ooh Ahh Ahh Ting Tang Walla Walla Bing Bang! Yes, that one makes you laugh and then you try to mimic me singing oo... ooo... uuuu..... So cute you are, my little one!
For Easter we dressed you up in a beautiful little blue dress that was your Aunt Jackie's and mine when we were little, and you even had your own little Easter bunny basket made of cloth. I stuffed it with an extra cloth diaper to make it look full! We went to church and you stayed with us and were mesmerized by all of the action in the worship service, the swells on the organ would draw your attention especially, and there was a beautiful handbell anthem that made me cry and made you stand up on my legs to see over the edge of the balcony.
In the spring, we went to visit Nana in Easley and spent a few afternoons in Clemson walking around the campus with you in your stroller, spinning that little head of yours around to look at absolutely everything. You loved the cherry blossoms on the tree behind the Calhoun mansion, and we even took your picture in front of Death Valley so you could show everyone you'd been there so young to get ready to cheer for the Tigers later the same year! We had a wonderful visit and you learned how to suck your own foot while we were at Nana's.
Later that summer your big sister and big brother came to visit for three weeks and had a big surprise in store for them! A crawling, very interactive, very inquisitive, very silly and funny baby sister in place of the tiny newborn they'd seen at Christmas. You adored your big brother's silly antics to make you laugh, and you and your sister bonded as she helped feed, change and carry you. You clearly enjoyed having them with us and grew up so much while they were around! We went to the pool a few times and visited Grandma and Grandpa (Grandpa calls you
Bright Eyes
!) and met Aunt Laura and Aunt Dot and Uncle Andrew and Aunt Gena. They were so animated and fun with you. You had met your Aunt Selma and Aunt Gloria earlier in the year, when you were still very tiny, and of course we had visited the Daddy's parents, Grandma and Grandpa, several times since you'd been born. Grandma held you and rocked you and you would almost go to sleep in her arms but not quite!
We took you to your first Atlanta Braves game in September and you were just completely agog at all of the people and the lights and music! The day was warm and you wore a little pink gingham romper with your white sunhat and adorable first white lace up shoes. Everyone around us was charmed by your enthusiasm and we were so proud to have you with us to enjoy one of Mama and Daddy's favorite dates. You made it through the sixth inning and drank lots of Daddy's water out of a very big bottle before we decided to get you out of the sun and into the car before rush hour started. You were fast asleep in your carseat before we got out of the stadium parking lot!
You love to play peekaboo. We started to peekaboo with you before you could sit up, and when you started sitting up at about 7 months or so, you played with us so much! Whenever you get a blanket or cloth napkin or even a SOCK in your hands, you immediately put it on top of your head and wait for us to say
Wheeeere's Alex?
and then you rrrrrrrip the item off of your head and make your little snickery stinky face at us! You love to do this especially at dinner time when we are all eating at the table, you in your highchair at the end, presiding over us with plenty of squeals and banging. You wait for just the right moment and pull the napkin up over your head and wave your arms wildly waiting for us to notice that you are ready to play, and the games begin!
There are so many stories to tell you about this year. I have documented most of your life in my diary along with a zillion pictures and will share that with you too as you get older. I hope this letter will show you what a delightful year we've had together. How proud you make me and how much I adore you from the top of your precious curly little head to the bottoms of your sweet pink piggies. I am in awe of God for choosing you for me, and me for you. He made a perfect match, and He shows me that every single day in your face-splitting smile, your sparkling blue eyes, your great big cheeks, the way you still curl against me when we are alone together in our pink chair, that wonderful rose and honey smell of yours, and the million other ways you light up every single corner of my heart.
Oh my little lovey love... I wish for you the unimaginable joy of your own daughter someday. Not too soon, but someday. That's the only way you'll ever get to feel the glow I feel, and it is just too good for someone as wonderful as you not to experience.
I love you, Beanie.
Mama
Birthday Fast Facts:
On your first birthday, you had a strawberry iced strawberry cake that Nana and Mama made. You ate it on the back porch at the beach house at Wild Dunes, with Nana, Poppa, Daddy and Mama cheering you on wildly.
You wore pink corduroy pants and a white cotton long-sleeved shirt with a little pink crown on the front.
Your birthday hat was lavender with pink furry trim and purple rhinestones that said
1st.
Your party was on Sunday (the day before your birthday) because the following day we had to drive home to Atlanta. On Monday, we ate lunch at Cracker Barrel in Clemson and called that your birthday lunch. You loved it.