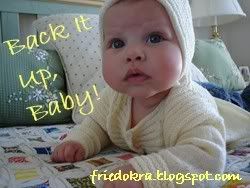 I'm starting my own little crusade, and I hope you'll join me.
Months ago, the hard drive of my old computer crashed. I was happy to have
my shiny new replacement laptop
, and the two of us have logged countless blissful blogging hours together since that day. She's a sweet ride, this fancy little coupe of mine!
But something else, something AWFUL and painful and very sad happened that day too. And there's no perky, quippy, Southern, FriedOkra-style punchline to come, either. This is
SEEEEEEEEEERIOUS
. I lost nearly all of the data on that old, worn out hard drive, and it hadn't been backed up in over two years.
Y'all. I lost the original files of almost every single picture I'd taken in 30-something months.
Are you soaking that up? Pictures. Of Bean's first three years. Gone. Poof. Her birth, her Christmases, birthdays, baptism, first teeth, first steps, smiles, giggles, everything. Just vanished.
Our dear friend and neighbor, Adem, has worked for nearly two months to retrieve some of the lost files and he's done a fabulous job, but of the nearly 5000 pictures on the drive, even his considerable expertise could only salvage about 500. When Mama crashes a drive, she crashes it hard, people.
The good news in our case is that I've had an online diary since before Bean was born, and have stored most of the very very best pictures at an online photo and video storage site for easy uploading to the diary. Our pictorial history hasn't been entirely destroyed, thanks to that. BUT. I know others who've not been nearly as lucky. In the few conversations I've had with friends since The Big Crash, more people than not have lost some of their own precious memories through computer problems and, more importantly, their own failure to set-aside the short minutes it takes to back up their hard drives regularly.
Hence my crusade.
Go, people. Now. Skip my next several posts (I'll endeavor to avoid writing anything particularly useful or riveting. Just for you! Ahem.) and use that time to take a look at
BestBuy.com's
offering of file storage options starting at only $25 clams. Skip another post or two each month and use those minutes to grab the digital pictures, videos and other important data off that hard drive and slip it onto a little thumbdrive, burn it to a CD, or at least upload them to an on-line storage site. It's so little to ask, but will save you so much sadness.
I'm going to remind you once a month from now on, by posting the button above. If you'd like to help spread the word, grab the button yourself and post it on your blog to remind your friends, relatives and readers to protect their cherished photos and other memories. I'd really appreciate it, and they will too. You can count on it.