What a fun time that Delurking Day turned out to be! Thanks y'all! I love that you even got all poetic right back at me. Delightful! And
Karen
, I'm gonna be laughing about your ...
sumpin'
... for a week. I believe in my heart there're a few more lurkers out there, too, but a couple probably hadn't a clue what I was talking about and a couple more I know may not be reading and one or two just. don't. comment. on. the. blog. period. stop. hounding. me. already. But they DO email me on occasion so I counted 'em in my head. It's all good though. Lurk, don't lurk, comment, don't comment. Just sit back and enjoy just for Pete's sake don't leave a sticky mess I have to clean up because Mama does NOT care for a sticky mess.
Which brings me to today's Big Events. One of which involves a sticky mess and one involves the revelation of one of those bloggy secrets you have to keep even though your very soul cries out to confide it loudly to all of Internetia.
Big Event Number One involves my having gotten a bit of EXTRA SLEEP lately, and having arisen this morning chock full of
zee VIM
and
zee VIGOR
and ready to scoop up my favorite diminutive Sous Chef and haul her giggling down to the kitchen to whip up some PAMPAKES! Oh people. I wish you coulda
seen
the child's face when I asked her over our morning snugglefest,
Hey Bean, you wanna go downstairs and help Mama make some PAMPAKES?!
And heard her squeal
PAMPAKES? FER BREFTIST? YIPPEEEEEEEEEEEEEEEEEEEEE!
It'd have absolutely made your morning, as it surely did my own.
I did NOT get any pictures of the actual creation of the
colossal mess
PAMPAKES, seeing as how you don't, for a minute, scootch yourself even millimeter away from the scene when you've placed a small person in close proximity to flour, eggs and oil. No, trust me. You just don't. Because I stood over her like Geppetto over Pinnochio, (and oh how she loves my close and constant
gasping, hyperventilating and nagging
supervision
when she's trying to create!) But I DID get a little snap happy after the
damage was done
breakfast was ready and Bean was safely perched in her chair, horking down PAMPAKES enough to choke an elephant.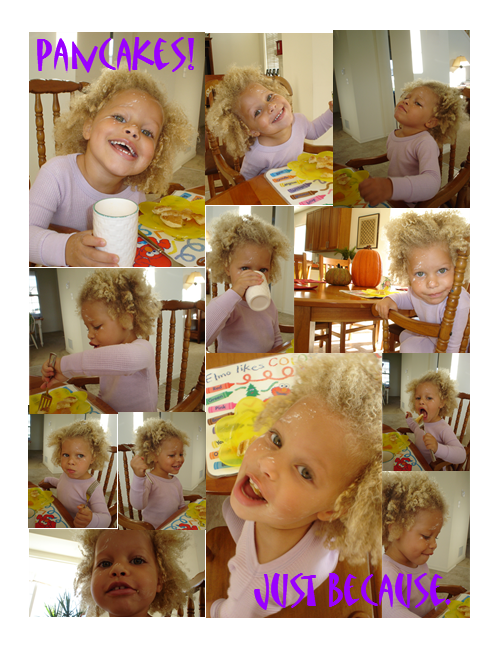 And I know what you're thinking, by the way.
Why is she writing so much about Bean lately? The Fried Okra, she is becoming of one dimension.
(You know because I am so wildly multifaceted most of the time. Which,
HA!
) And in answer to your unspoken question, I shall reveal BIG EVENT Number Two. No, no I don't mean that the way it sounded. I actually mean the Second of Two Big Events, Namely:
The Glorious Homecoming of My Weary Business Traveler Who Has Been Absent from the Premise Since A Very Eye-baggily Early Hour Last Monday Morning.
Did y'all even notice he was gone?
Oh we have been rejoicing here at his return. He looks pale and thin, but nothing a good homecooked meal and an evening curled up with his two best girls won't fix up. He actually enjoyed the trip - his first BIG meeting since starting the new job - and was reunited with several old buddies from the Nefarious Firm. He's beside me now, working on a paper for his class. He says
Hey Ladies
.
Oh? Well, thank you, I'll tell him you said so.
And with that huge secret off my chest, I shall exhale in relief and bid you adieu so I can go enjoy myself a heapin' helpin' of the HoneyBunny.