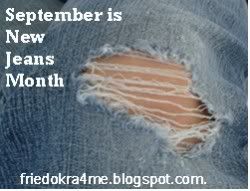 Y'all.
I haven't bought a new pair of jeans since the spring before Al and I got married. That was four and a half years ago. I did own another pair at the time and they were easily 2 years old then, which would make them six and a half years old today, if my math is correct. Do you REMEMBER what jeans were like six and a half years ago? Well, I do. That was back when the rise of a jean still came up to and/or over your bellybutton! And lemme tell you, I am never getting the post-baby innertube of flesh and flab around my middle tucked under the vice-like girdle-grip of any Mom jeans again without a tub of Crisco® and a drill press.
Fortunately the new jeans I bought that spring had a lower rise. A rise with dignity AND hipness - not too high, not too low. They're the perfect wash, too. For color and texture they're sheer perfection. No embellishments anywhere - just a simple, straightforward 5 pocket jean. Dress 'em up, dress 'em down, you're good to go. In them I've always felt cute, comfortable and confident. And that's sayin' something. Am I right?
You know what happens to the favorite jeans, though, don't you? Velveteen. Rabbit. City. The knees of my beloved fivepockets started wearing thin in the winter months last year and as soon as I noticed that, I started machine-washing them ONLY WHEN THE SITUATION DESPERATELY CALLED FOR THOROUGH CLEANSING. I confess:
I spot-cleaned them whenever I thought I could get away with it.
(Hangs head in shame.) I also started hanging them to dry on the rare occasions that I submitted them to the cruel brutality of machine washine, so as to avoid losing additional precious denim fibers to the lint filter. Such are the drastic lengths to which a woman in desperation will go to preserve the integrity of her favorite dungarees. Alas, those measures only served to prolong the agony of standing by helplessly as the best pair of jeans I've ever owned developed a hand-sized gash across one knee and a threatening weak spot right at the bottom of the zipper. (Muffled sob.)
Sigh. I must find myself some new jeans or be forced, come October, to go about my life dressed like Porky Pig.
And frankly, I don't have the tail for such shenanigans.
Which is why I hereby declare September to be
New Jeans Month
.
And this is where YOU come in.
'Cause you shop. And you wear jeans. And you've watched an episode or two of TLC's
What Not to Wear
. And you're smart. And cute. And fashionable. (Can you believe the level of detail my stats tracker can provide? ZOWIE!) But you are not emotionally (or otherwise) attached to my perfect old DKNY jeans and therefore you've an ability to be objective that has thus far eluded me in dressing rooms all over Chicagoland.
So.
Utilizing your knowledge of fashion, your accumen for shopping, and your understanding of what makes a perfect jean perfect, you tell me where to find my next pair of perfect jeans. Be as specific as possible about the brand (for brand loyalty runs mighty deep where denim is concerned, doesn't it?), the location (a retail store, catalog or website) and the style, in your suggestion. You don't need to suggest the size... I can figure that part out myself and I'd like us all to remain friends after all is said and done. Ahem.
I will dutifully shop for or order and try on any of the brands and styles of jeans you love and think I would love too (those that I can find with relative ease).
If I select your favorite jean for purchase (which would mean it fit well and I loved it in the way a woman loves a pair of good jeans), YOU will get a $25 gift card to Macy's, Kohl's, GAP, or any other major retail purveyor of fashion you choose as long as I can order the card online.
A second winner, selected at random, will win a $15 gift card.
Have fun with this. You can write a post in your own blog and share your Mad Jeany-ology Skillz, or just leave your suggestion in my comments. To qualify for the gift card, please link to this post in your blog, if you have one. Grab the button up there or get me to email it to you, if you like.
I'll be shopping all month long, but the deadline for suggestions will be Friday, September 14th.

I'm not a large woman. I'm about average or slightly smaller than average, I'd guess. If I were a fruit, I'd be a pear. Little bit of junk in the trunk.

I think I need a slightly flared leg that goes straight down and isn't snug on the thigh.

I like BLUE jeans. What is with that new weird brown wash that makes denim look muddy/dirty? EW!
Also feel free to play along and find some new jeans for you, too! Check back here often to find out which jeans other women love. If you can't count on bloggy friends to tell you what makes your bottom look big, who CAN you count on, know-what-I'm-sayin'?