Oh dear me, I must hurry people!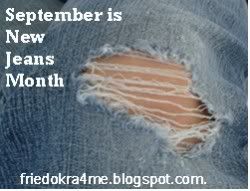 I feel it only appropriate to confess I've been feelin' a tad overwhelmed by the number of your helpful and sometimes quite emphatic responses to
my little jean challenge
a few weeks ago. I am literally having to compile all the suggestions with their respective suggesters and such into a little spreadsheet so I can even keep up with all the different brands, styles, and match them up to all the thoughtful people who recommended 'em! I feel so grateful y'all took it all so seriously and came to me, overflowing with sweet compassion, in my time of need. Yet I am currently becoming mildly concerned I may not get them all tried on by September 30th, much less have made a decision and a purchase! But I'ma endeavor to meet my deadline and award the promised gift-cards by early October, even if it means I have to hop around Chicagoland with each leg in a different pair of pants for the next week.
Nicki (My Boys and Me)
and I went last Friday on the spur of the moment, prompted perhaps by how perky
Jennifer
looked in HER jeans and our strong and prideful desire not to be out-cuted by a... um... NEW RECRUIT to our gender, to WalSmart, where several of the brands of jeans y'all recommended happen to be sold.
Nicki minded the chiddren and the two shopping carts AND played fashion photographer throughout the ordeal while I ferreted out some jeans and modeled them, stepping out of the fitting room each time (except for that time when I couldn't get the one pair up over my hips and nearly broke my own neck in a tragic laughing-fit accident while picturing myself as that lightbulb cartoon kids draw and say is a
lady pullin' up her giiiiir-dle
. Do y'all remember that? I know my sister and cousin do. And probably Marie, too.) so Nicki could snap away at the blogfodder.
I tried on two pairs of WalSmart's brand, Faded Glory, jeans first.
The Narrow Stretch Boot Cut: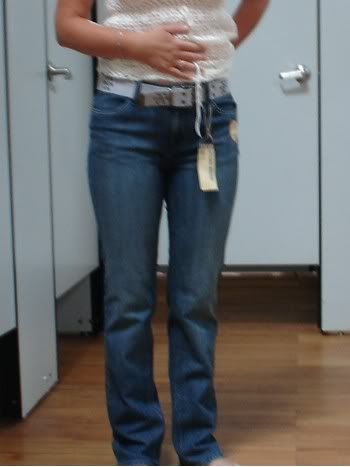 Which squoze me so tight around my hips and thighs that I could just barely walk out to Nicki's makeshift studio, but STILL had a gap at the waist. Plus, they sat just hair too high on the waist and that belt? Um, no.
and The Stretch Flare: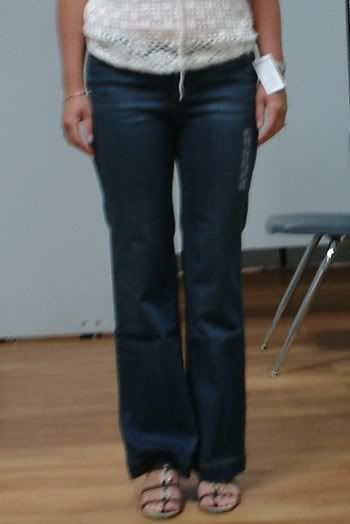 Which I actually quite liked, except they were too short for me to wear with heels, which I almost always do. I loved the cut of the legs and the wide hem with visible seaming. You can't see it here but the waist sat a little lower than the first pair and didn't gape. These were nice. I wish they'd been longer. I could have tried a larger pair, but they'd have required tailoring and I'm hoping one out of the million other different brands and styles I'll be trying on over the next week or so will fit me without the added expense of alteration. That'd be quite a cous for me, though, so we'll see.
Nobody specifically recommended the next jean, the Levi Signature Jean: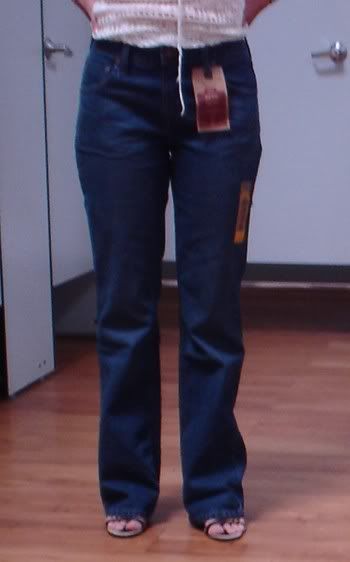 I liked it okay except for the fit through the hip/pelvic area, which Nicki described as bumpy. Or bunchy. Either works well, as you can see. Also, there was some of that whiskerin' bidness (which isn't visible in the photo but was noticeable enough to make it into my trusty jean-shopping notebook) which fell right on the widest part of my leg didn't do much to minimize the ol' saddlebags. But these fit nicely in the waist (bit too high, again, for me), and the length was good. I did get several recommendations for Levi jeans, just not these particular ones.
Lainey (Blog In My Eye)
and I were supposed to shop last Saturday at the
BIG FAINCY MALL
cleverly located right between our two little burgs, where we thought we'd likely find the rest of the brands y'all pointed me to, except maybe the Lucky Jeans, but both of us ended up sick (allergies, virus, you name it) by Friday night and we didn't go. I hope you're feeling better, Lainey!
I'll keep y'all posted on my progress!