Y'all probably aren't even old enough to recognize those lyrics, are you? Well, most of you, anyway. Mom, are you singing?
I must say that I am absolutely Pickled. Tink. about the responses from ya'll to my last post declaring September New Jeans Month. I knew y'all would have some good ideas! Maybe one of you be able will save my derriere from certain frostbite this winter! I hope you will also go take a look at everyone else's suggestions, too, so we can all look smart and fabulous together!
Now that we're well on our way to resolving the issue of junk in my trunk, it follows we'll move on to the junk in my kitchen cabinets. What, you don't see how that follows?
Okay it doesn't really follow, but my beautiful new friend Jennifer from
Gathering Grace
showed us her cabinets this morning and she innocently asked her readers to show theirs. Ap
PAR
ently, a lot of Jennifer's readers, bless their sweet hearts, have something to hide, because they all flatly refused the invitation! But here at Fried Okra Manor? Our cabinets are an open book! Take a look:
Here's the hot beverage station in the cabinet directly to the right of the stove top, where the teapot hangs out. Directly under this cabinet you'll find the coffee-maker and the espresso machine which hasn't been used since we un-dink-ified ourselves back in October of '04.
Next are the plates and serving pieces (minus the trays that are in a bottom cabinet I'm not showing today because you're already going to be bored to tears looking at the top cabinets and you really haven't done a thing to deserve such a punishment anyway) and the crockpots on the top shelf which need to be moved somewhere because Al has a duck fit every time I climb up on the counter to get them down. I think he must be completely mystified that I was able to survive life before him... since I'm apparently the
Evel Knievel of Huswifery, Without A Helmet
and all.
Next door to the plates live the bowls. I think you've gathered that we here at Fried Okra Manor
promote integration where ever possible
, but when The Plates and The Bowls started getting tattoos and sporting red and blue bandannas, we thought it best to separate them. The graffiti remains a problem however.
Next come the drinking glasses and our ever-growing assortment of vitamins and dietary supplements. And the requisite cache of sippy cups. We have forty-leven sippy cups because it has taken us 2 years of constant experimentation to find a brand and style that work and don't require you to have an engineering degree to take them apart and put them back together.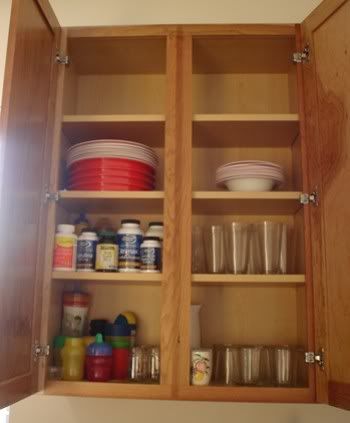 Follwed by the barware. Such as it is. We don't drink all that much but we have an occasional glass of wine or snifter of something. Mostly because we love the word
snifter
. And we feel very cultured when we sip from our
snifters
. Makes us want to buy a couple of wing back chairs and watch
Mah-stah-piece Thay-ah-tah
from them. Daaaaaaaahling.
And this photo is JUST for Jennifer, because my love, I feel your pain when it comes to the Tupperware® conundrum. Many years have I struggled to keep my storage containers all sorted and balanced and organized. Many long and painful years. But now. I have made peace with my plastic. Our new house has a cabinet unit that is one shallow drawer and two very deep, very wide drawers. The bottom drawer? Tupperware® Territory: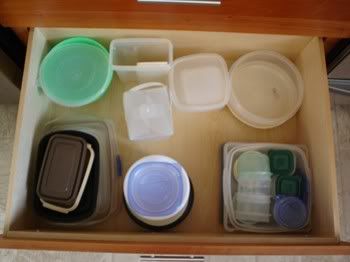 And as a bonus. BONUS BONUS BONUS! The shallow drawer. Spices galore, all visible and confined and cozy. In my previous assorted abodes I'd always succumbed to my mother's promptings to display my seasonings on two Lazy Susans side by side in a high cabinet (But 'lazy' is a four letter word in my family so we always called 'em
go 'rounds
). This really never seemed quite right for me, location or organization-wise. (I hasten to add that I am not casting aspersions on the
go 'round
at all, Mom!) so when we moved into this house I was determined to bring the herbs and spices down to my level so I could get to them without untucking my shirt and going cross-eyed. (It's the little things, people.) And here's what I was able to perpetrate: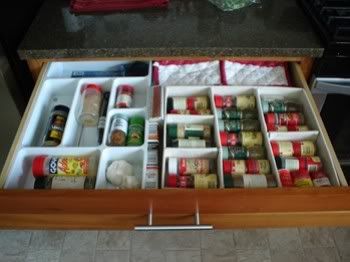 Yes! Angels DO sing whenever I open that drawer. How did you know? Tee hee.
So there you are Jennifer, dear. My kitchen cabinets out there in front of God and everybody! Who loves you, baby?