From the
Things That Made Me Go Hmmmm
(or in this case,
YES MA'AM
!!)... files:
Put on your white apron and your black tie, people, and get ready to whip Chez You into shape! I have found MY FlyMama! She's your bossy older sister hopped up on OrangeGlo®... The drill sargent of dusting and dishes! You must go subject yourself to the almost daily bottom-kickings SAHMmy's dishing out at her blog
SAHMmy Says
, in the interest of helping her fellow SAHMs get their households running like, well, in the case of this post, a corporate chain restaurant. Just go read it. I SAID GO!
And from the
People I Admire and Enjoy Who Also Make Things I Covet
files...
Check out Karla's blog
Looking Towards Heaven
. She's about to have a new little one, AND she creates some of the loveliest
Mommy cards
I've ever seen. You will want some too. As soon as she gets done giving birth and all that, I'm placing my order!
-------------------------------------------------
Got a couple of new pretties over there on my sidebar. (Grins.) I now have a very lovely little slipper to go with my
Bloggin' Princess
tiara!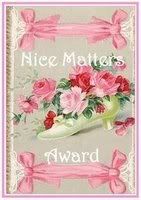 My sweet and very funny friend JulieMom, as in
My Life As
, was kind enough to bestow the
Nice Matters Award
upon me and I must say, her kindness just plain ol' warmed my heart. Thank you very humbly, Julie, for considering me one of
those bloggers who are nice people; good blog friends & those who inspire good feelings and inspiration. Also, for those who are a positive influence on our blogging world.
I'm passing along the
Nice Matters Award
to T at
T with Honey
, one of my first favorites ever. With a blog name like hers, you expect to go there and find a kind, sweet, gentle soul with maybe a hint of a lemony twist, and that's exactly what you get. She's funny, she's thoughtful, she's warm and open, and she immediately felt like a friend from the moment I read her first post. Love me some T with Honey!
And then to the lovely Rabbit at
The Hutch
. She leaves me regular, uplifting, sweet comments, and her blog never fails to make me laugh, think, and come back for more at my earliest convenience. Plus, she's homeschooling her kids for the first time this year and I've been riveted by her posts about their early experiences.
And for the lovely Karen at
Simply A Musing Blog
, whose blog has more fancy bells and whistles and fun gadgets than Chitty Chitty Bang Bang along with her witty, entertaining, and sometimes heart-tugging posts. If you are looking for the bloggy bling, Karen has it in spades! And somehow Karen manages to say the kindest most encouraging things right in the moments I'm feeling a little blue-bloggy. She homeschools too. Yay!

And then there's the
Rockin' Girl Blogger Award
with which T of
T With Honey
humbled me. Me? A
Girl
? OH I AM SO FLATTERED! And the
Rockin'
part's just the icing on the cake!
I'm bestowing the
Rockin' Gal
on my new friend and fellow fortygenarian Mari who writes at
My Little Corner of the World
whom I am happy to have met for many reasons. She is a nurse, a mother of three grown (as grown as they'll ever seem to her, anyway) kids, wife to a talented woodworker, a slow-cooking guru and a gardener... she can bake a mean peach pie one day and take beautiful pictures of wildlife and flowers the next, and in between there teach you something about God or yourself. I see Mary all over the blogsphere leaving a trail of kindness, thoughtfulness, authenticity and love for others. To do that with so many other fish to fry and to do all of it well, well, those are the marks of a
Rockin' Girl Blogger
, I think.