So you've been previewing my all-new Okratastic design for a day now... you likey? (Twirls around and strikes a pose.)
As I told my brilliant and trusted designer,
Jules of Everyday Design
, I feel like I just whipped off my omni-flattering black plastic cape and alit from the salon chair with a brand new beautiful do! I feel lighter, fluffier, fresher and eversomuch hipper and nower! And not only did she make me over to be a Bloggywood Starlet, she also made me laugh, made me learn how to use instant messenger, made me sit still and answer questions while Bean filled my cleaning bucket to overflowing with cold, filtered water from the fridge door dispenser and mopped the kitchen floor, cabinets, all items on the lowest shelf in the pantry, and the un-kosher half of my body, made me think about why I blog and who I really am as a blogger, made me feel more confident in my ability to homeschool Bean (something I'm mulling over lately) and made me feel like I have made a new friend. All that in a matter of an hour or so, and she did it all outta the goodness of her own sweet heart. She's something special, that Jules. And for real, an
angel
, bloggity and otherwise.
Also, incorporated into my new look, you will find a NEW PRETTY! I got an award y'all. (Squeals like a schoolgirl.) My first (Oh? Does that sound too presumptuous?) award! I'm a Bloggin' Princess!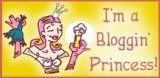 Thank you
DCRMom (Musings of a Housewife)
for this sweet and uplifting acknowledgment of these my first humble efforts at blogging! And in the tradition of the Bloggin' Princess Award, I am tickled pink to pass along the honor to two of my favorite bloggers. Your tiaras will arrive in the post next week. I got mine Monday and have only taken it off to wash my hair, and that not without quite a bit of a struggle.
First, my treasured friend in real life,
Lainey
, who coaxed me out of my quiet diarist shell and into the more public light of blogging kicking and screaming, and who inspires me daily with her quiet reflections and gentle inspirations at
Blog in My Eye.
And next, my new friend
The Other Megan
(I only call her that as a point of reference so I don't confuse myself, she could well be The Megan in my book if my name were Hildegard or something) at
SortaCrunchy
, funny and talented and natural Megan, whose posts always make me want to BE her, or at least replicate her eco-friendly, soft and organic ideas in my own life. Anyone who can write about sanitary products you gotta launder yourself, and make them sound all beautiful and cozy, pretty much has my vote for just about any award!
Congrats, girls!
XOXOXOXO