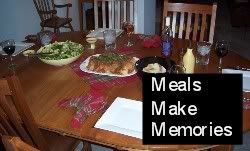 Writing about food actually BURNS calories, y'all.
Next Tuesday, July 31st, I'm hosting a blog carnival. It's my first ever! Come join the fun and write about special memories you've made over meals. (Bean and I made a new one and reflected on another
yesterday!
)
For more information about the carnival and some additional blather, click the button above. And if you'd like a button so you can tell your readers about the carnival, leave me your email in a comment. Or you can do a screen grab. Whatever! Just spread the word so we can have PURLENTY of good food stories upon which to gorge ourselves come Tuesday.
Y'all come on and write with me. And stay for dinner!