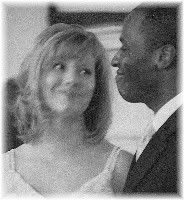 For my birthday in September 2004, Al treated me to a full day of elegant pampering at my favorite spa. The gift truly delighted me, and I luxuriated in every single second of luxury.
Later, Al returned to gather me up and take me home, where I relaxed and savored the day until the time arrived for me to dress for a special birthday dinner at our favorite restaurant.
I carefully selected a pair black flowing pants, a violet silk sleeveless top, and my sexiest strappy black sandals, all the better to display my freshly pedicured toesies. Al was particularly insistent on our being prompt for our reservation at the restaurant, one known for its sumptuous atmosphere, food and wine list. At a quiet corner table there, we'd had some of our deepest and most honest conversations about our feelings for one another, so it held (and still holds) a very special and romantic place in our hearts.
Thanks to a bit of extra primping on my part, we arrived about ten minutes late for our reservations, and Al seemed markedly anxious to get inside and be seated. The host greeted us by name and asked us to follow him to our table. I floated along behind him feeling just right... relaxed, special, loved, sexy, on-top-of-the-world. Everything was perfect and I just knew I would forever remember this magical night.

The scene I beheld as we approached our special table still brings happy tears to my eyes just from the memory of it. A large table replaced our tiny one and around it sat a group of my dearest friends who immediately jumped to their feet to shout, "Surprise!"

So this was why Al had been acting so mysterious (and nervous)! A surprise birthday party for little old me! The table was already heaped with delicious appetizers of crisp fried calamari with bright fresh lemon juice, crusty fresh pizzas piled high with prociutto and melty mozzarella, salads of pungent marinated olives and smokey grilled vegetables slathered in fragrant olive oil and garlic, fresh baked focaccia with crisp baked tomatoes and parmesan, and bottles and bottles of our favorite merlot and cabernet. As I took a seat near the center of the table, I marveled at the fact that each menu bore the message Happy Birthday Megan in a banner across its top. My wonderful friends chatted and ate and drank and laughed as Al and I made our way around to visit with them individually. Delighted in my role as belle of the ball, I could hardly catch my breath for the excitement I felt over such an amazing evening planned by such a charming man.

As the appetizers quickly disappeared and our servers took entree orders, my sweet prince again seemed momentarily anxious and restless. Then, clearing his throat, he stood boldly and raised his glass in a toast. Placing a hand on my shoulder, he wished me Happy Birthday and thanked our friends for joining us on such a special night. He went on to share that we viewed the people around the table as part of our family and so much a part of our lives that it was natural to have them with us on such an important night. At this point, my sweet Al reached into his pocket and knelt on the floor beside my chair.
He opened a box that revealed the most beautiful ring I have ever seen, and he asked me to marry him and spend my life with him.

Needless to say, Al's proposal rendered me speechless with emotion. Crying happy tears, I grabbed that sweet, beautiful face, looked into his smiling brown eyes and whispered Yes! The briefly silent table erupted in an outpouring of toasts and crying and hugs and kisses, and this intimate moment most couples share alone became even more beautifully meaningful and memorable to me for having so many of the people we love most in the world right there with us as the rest of our lives unfolded before us.
As the celebration reached its crescendo, the servers delivered to our table the most rich, gooey, decadent chocolate birthday cake I'd ever seen, with Will You Marry Me? ringing the plate in chocolate sauce. Velvety champagne filled sparkling flutes and I floated away on a cloud of love and joy and hope for a future with my beautiful, amazing best friend.

The sheer magic of that night still takes my breath away. My heart knew in that moment, for sure, with no doubt, that this man was the one. This was the night that I fully understood how well Al understood me. I finally realized that he wasn't just kidding around when he told me he loved me. He'd created a night that was perfect in every way for me, down to the tiniest detail.
A night I will remember forever.