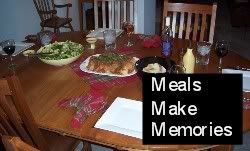 While we are on the subject of food, allow me to invite your lovely self to join me for my first-ever writing carnival, in which we will write about one of my favorite topics... yes, food! Click on the
Meals Make Memories
button up there to read the details and then throw together (it's the last minute now so you'll have to make do with what you've got in the pantry!) a post about a special edible memory.
Last week had its moments. The
Lemon Chicken Schnitzel and Roasted Potatoes
turned out quite tastily, but my deepest fears about the
Fantastic Fish Pie
were confirmed. Actually pretty much everything about the dish WAS fantastic, excepting the fish, which I would describe as having the texture of the dryer lint produced by laundering an entire load of wool socks, with the flavor being like unto that of those same wool socks prior to the laundering process, but subsequent to having been worn by the local highschool football team for practice the entire month of July. It's a good recipe - sorta like if shepherd's pie, clam chowder and festering sock fuzz had a baby. If I ever decide to try it again, I'll leave out the globs of woolen lint and put in some shrimp and scallops.
If you don't count shrimp as meat, we are going 100% meat-free this week! Check out the Mama cookin' up the veggies at FriedOkra Manor!

Monday
Lentil Stew
Potato Pancakes
Fried Cabbage


(Down South we call this combination Hoppin' John. You put the peas on top of the rice and then smother the pile with chopped onions and hot tomato salsa. It's slap-yo'-Mama good.)
Collard Greens
Corn Bread
(which we will discuss at a later date)

Thursday
Grilled Shrimp
Salad


Friday
Pizza Margarita
S'mores by the fire
And that takes us up to Saturday, the day upon which we shall receive our two lovely "Big Kids," Bean's Sissy and Buddy, my step-children. And then all Menu Heck breaks loose.
Menu Plan Mondays are hosted by Laura at
I'm an Organizing Junkie!