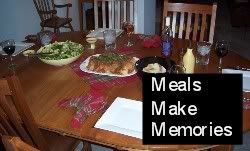 Blog About Your Memorable Meals

I love food. Rrrrally I do. I'd probably eat all day long every day if I could get away with it! I would! If I'm not actually noshing some tasty morsel, ask me what I'm thinking about? Yeah, probably more than 50% of the time, I'm taste-testing a new recipe in my head, planning out a weekly menu, or contemplating my next snicky snack. In my free daylight hours, I rarely leave my kitchen - it's the hub of activity for me and for my little family. I cook here, I blog here, I do laundry, pay bills, talk on the phone, check and return emails, read and ponder the mysteries of life right here, at my kitchen counter. We chose this floorplan for our new home for that reason alone: We needed a house with the kitchen at its heart, as the epicenter, because the FriedOkra family is all about 'dem vittles.
Thing is, there's more to eating than just Food Guide Pyramids, tastebuds and waistlines. Most of my most cherished memories feature a meal of some sort. I remember homecooked, Southern-fried summer suppers cooked by my Mom as I was growing up in Carolina, table-busting holiday feasts with both sets of grandparents and all the aunts, uncles and all four of the girl-cousins giggling at the kids' table, the macaroni and cheese casseroles Mom would make and cart over to college for me to share with my friends during exams, all the experimental (Ahem!) dishes I prepared in my early twenties as I learned how to cook in my own first little 6'x3' kitchen, so many beautiful, elegant meals out when Al and I were dating, the bountiful and sumptuous spread of food we provided for our wedding guests, the mouth-wateringly delectable plastic-wrapped graham crackers I devoured and could have sung for joy over just moments after I delivered Bean, and the fire-roasted hot dogs and gooey s'mores we've shared with our neighbors up here over bright bonfires in the cool evenings of summer. For me, food's about tradition, comfort, connectedness and joy, and I bet I'm not alone in those feelings.


I think it'd be fun to read everyone else's food stories. The memorable Christmas dinner, the Mother's Day breakfast in bed, the picnic by a hidden waterfall, the baby smearing creamed spinach in his hair... how love was given and received at the table... how magic memories were made over the mashed potatoes. How he proposed at your favorite restaurant, dazzling you with a champagne flute full of the bubbly, your diamond engagement ring sparkling at the bottom. You're thinking of one right now. Write about it! You can even include old family recipes (if they aren't Top Secret!) or special menu ideas so we can all try to replicate your culinary experiences...


And then link your Meals Make Memories post (not your homepage) to my site (I'll do a Mr. Linky if I can figger out how) next Tuesday, July 31st, so we can all share our most Memorable Meals. If you don't have a blog, leave your memories in my comments sometime over the next week and I'll post your story for you.


I'd love to have loads of stories for us all to read so please mention this idea in your own blog if you'd like. I'll even give you a Meals Make Memories button like the one right up there to post... just email me at alandmeganATsbcglobalDOTnet.


Oh, and consider this little-known factoid: Writing about food for about an hour will actually BURN 102 calories. So go ahead and indulge!